Main Content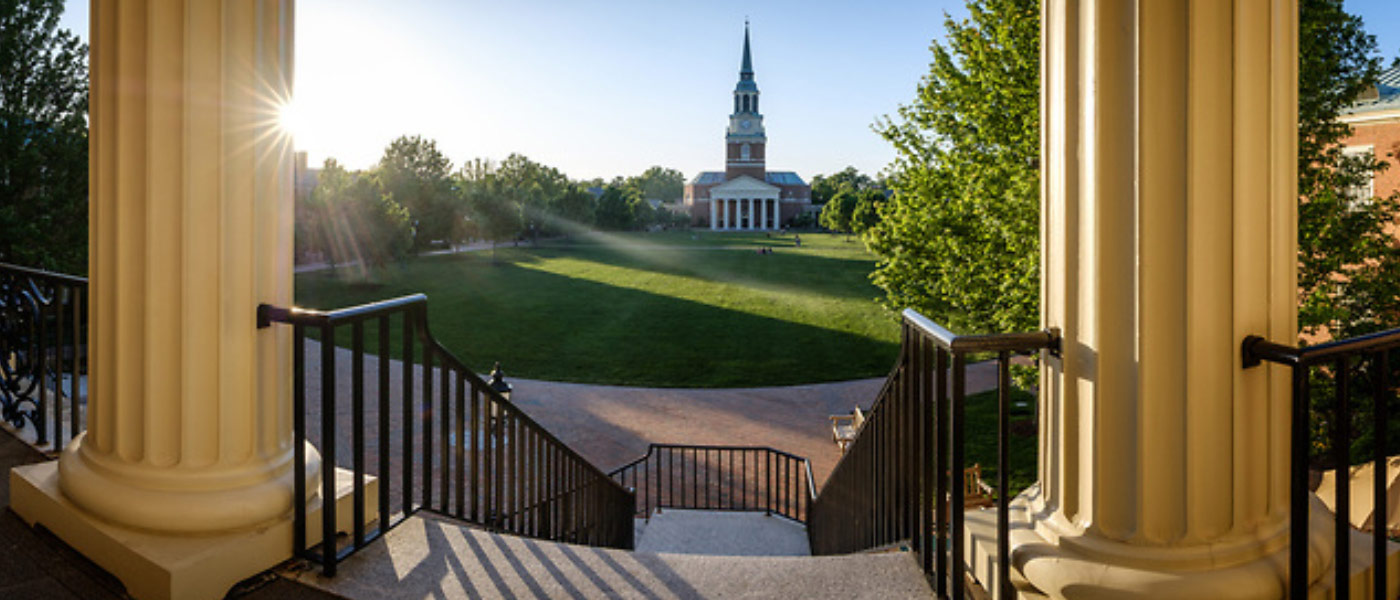 All members of the Wake Forest University community should feel seen, welcomed, and valued. In order for this to occur, The Office of Diversity and Inclusion…
Believes that all students, staff, and faculty members should be seen for their infinite dignity
Believes that all students, staff, and faculty members should study, live, learn, and grow in equitable environments and spaces on campus
Believes that all students, staff, and faculty members should feel that their contributions, identity, and goals are affirmed
Believes that all students, staff, and faculty members should be able to depend on systems of accountability, education, and growth that contribute to the creation and sustainability of an inclusive community
Believes that no student, staff, or faculty members should be subject to racism, xenophobia, or any other form of discrimination
The vision of the Office of Diversity and Inclusion is to:
Strive for Intentionally Equitable Policies | Members of Wake Forest University will be able to identify, develop, and appraise policies that promote equity, diversity, and inclusion across academic, administrative, support, and logistical units.
Cultivate Programs that Foster Intersectional Awareness and Understanding | Members of Wake Forest University will engage in curricular and co-curricular programs and initiatives that facilitate their capacity to explore, understand, and operationalize a broad range of concepts, experiences, perspectives, and opinions. 
Empower All Academic and Administrative Units to Become More Inclusive | Members of Wake Forest University will be presented with opportunities, resources, and materials to help them plan and critique their diversity and inclusion practices in using methods and "best practices" that directly contribute the University's mission towards a more diverse learning community.
The mission of the Office of Diversity and Inclusion – in collaboration with University colleagues and stakeholders – is to support the university's mission of creating a more diverse learning community, by offering programs, influencing policies, and elevating practices that are representative of an inclusive and equitable campus climate.
The Office of Diversity and Inclusion and its Core Centers aim to promote a safe, equitable, growth-minded, and engaged campus community, wherein students, staff, and faculty – within and across multiple identities – can feel supported and valued in their personal and professional development. The following "guiding principles" ground the programs, policies, and practices supported by ODI and its Core Centers, which in turn may be used by academic and administrative units as they seek to foster diversity and inclusion within their spaces.
Recognize the multiple voices, identities, perspectives, and experiences of students, faculty, and staff at Wake Forest University
Identify and provide support for underrepresented groups at Wake Forest University, through a network of campus partners and resources
Design and implement professional and leadership development opportunities, related to diversity and inclusion, for all members of Wake Forest University
Evaluate and disseminate relevant qualitative and quantitative research related to Wake Forest University's campus climate
Support equitable policies and practices across Wake Forest University
Challenge Wake Forest University's capacity to be more strategic and systematic in relation to Diversity and Inclusion efforts and objectives
Meet the New AVP's
---
Sustainability of any diversity and inclusion initiative occurs only when the most senior leaders, governance groups, advisory councils, academic administrators, and faculty are involved in the formulation and administration of the Diversity and Inclusion blueprint.
History
---
Discover the historical actions that served as catalysts for the University's evolving support for diversity and inclusion.
Campus Partners
---
Our partnerships across campus help further the vision for diversity and inclusion while ensuring that we are helping to shape institutional policies and organizational programs that allow us to holistically serve the campus community.