Main Content
Shannon K. Ashford, M.Ed.
Senior Associate Director
Learning & Development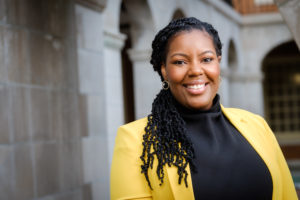 Shannon (she/her/hers) is an educator and facilitator whose work and expertise meet at the intersection of diversity and inclusion and leadership development. Her passion is to connect and develop individuals in order to create inclusive and equitable spaces. As the Senior Associate Director, she oversees the development and facilitation of workshops, trainings, and programming centered around cultural competence development and inclusive practices to students, faculty, and staff.
She brings a decade of experience in diversity and inclusion, campus activities, leadership development, college access, and nonprofit management. Her professional activities include holding volunteer leadership positions with the National Association for Campus Activities and has presented at conferences across the country. Additionally, she serves as a Co-Lead Facilitator for the LeaderShape Institute.
Shannon earned her Bachelor of Science in Journalism (Public Relations) from Ohio University and a Master of Education in Higher Education Administration & Student Personnel from Kent State University and holds a Certificate of Nonprofit Management from Case Western Reserve University.