Main Content
Kayla Lisenby-Denson, M.Ed.
Assistant Director
LGBTQ+ Center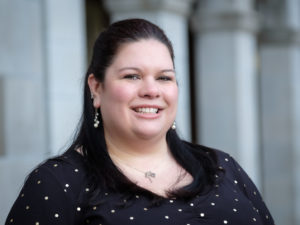 Kayla (they/them/theirs or she/her/hers) serves as the Assistant Director for the LGBTQ Center, where they promote the Center's commitments to education, support, and advocacy around issues of sexual orientation and gender identity through developing programming, educational opportunities, and student engagement experiences.
Kayla received their Master's degree in Higher Education and Student Affairs from the University of South Carolina in May 2013 and their Bachelor's degree in Anthropology from the University of Alabama in May 2011; they are currently a student in the Evening MBA program at Wake Forest University.
They joined the Wake Forest University community in the summer of 2015 as the Program Coordinator for the LGBTQ Center. Prior to working at WFU, Kayla served as the Coordinator for LGBT Programs in the Office of Multicultural Student Affairs at the University of South Carolina, where they worked with the Safe Zone education program, coordinated a peer leadership program, and maintained support and advocacy services for students across the institution. Kayla enjoys calling Winston-Salem home, though they will always be a Bama fan at heart, and loves spending time with their wife and dogs.