Main Content
Jonathan McElderry, Ph.D.
Assistant Dean of Students
Executive Director, Intercultural Center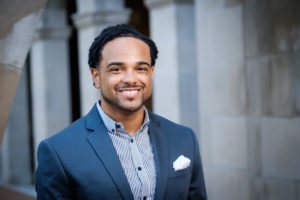 Dr. Jonathan A. McElderry (he/him/his) has served as the Assistant Dean of Students and the Executive Director of the Intercultural Center at Wake Forest University since June 2016. Additionally, he serves as an affiliate faculty member in the University's Department of Counseling.
His research has sought to raise awareness of the experiences of underrepresented students at predominantly White institutions and provide strategies to increase their academic and social success. His professional activities include holding several leadership positions within the American College Personnel Association (ACPA); serving as a Co-Lead Facilitator for the LeaderShape Institute; interning with the Social Justice Training Institute (SJTI) and a standout scholar-practitioner, who has authored/co-authored research articles, book chapters, and mainstream resources. Most recently, Dr. McElderry was elected as the Director of Equity and Inclusion for the ACPA Governing Board and was named a 2020 Annuit Coeptis Emerging Professional by the association.
Dr. McElderry holds a Ph.D. in Educational Leadership and Policy Analysis from the University of Missouri, an M.Ed. in College Student Personnel from Ohio University, and a B.S. in Administration of Justice from George Mason University.